Sheathing how is it done?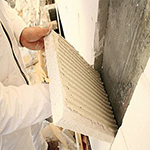 Our production jacketing material is prepared to apply the paint if you come as ready for implementation is achieved by creating a plaster on the wall with a hammer paddy



Insulation adhesive mortar (Henkel Ceretherm Web A1, Derk, etc.), prepared by mixing with water in the bucket



Adhesives are placed on the rear face of the insulation material is stretched



Starting at the bottom of the adhesive material on the wall, pasted on the interlocking shapes



Picture of the material from the top must be installed on the wall of Article 15 to 20 seconds



After the building will be laid in place are completed, sanded kapatılırak place between the repair mortar to fix any damage or defects seen between the two materials



It's ready to heat buildings.